It's that time of year again – the time when you stock up on all of the outdoor workwear that's going to get you through the spring and summer seasons. You want to stay cool, dry, and comfortable, so be sure to check out all that the Working Person's Store Spring/Summer Catalog has to offer. You can request to have the catalog mailed to you by signing up here, or feel free to delve right into the internet version of our WPS catalog. By choosing the interactive online catalog, you'll be all set to browse our products at your leisure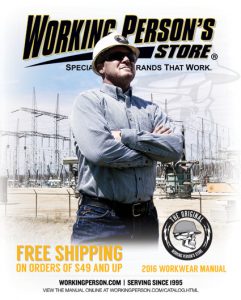 The cover image was shot locally, and it features Ariat FR workwear. Just because the hot summer sun is making you sweat bullets, that doesn't mean fire hazard risks go away. They can happen in the blink of an eye (or at the drop of a hat, or a New York minute – we'll let you choose your own idiom for this one), so you have to be prepared at all times. Stay safe year-round in this flame-resistant gear, from fire-resistant blue jeans to breathable FR work shirts.
It's time to load up on high quality workwear you can trust. Getting through the daily grind doesn't have to be miserable. Sunglasses and cooling towels? Check. Moisture-wicking shirts? You got it. Find these and more at WorkingPerson.com. Flip through the pages of our catalog to find exactly what you need to keep cool this year!