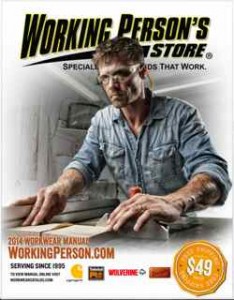 The newest edition of Working Person's Store catalog is here! We are excited to share this catalog with all of our customers. It's just another great way to order from WPS from the convenience of your own home!
Inside this catalog, you will find workwear, work boots, and work shoes for men and women. On the left hand side of page two there is a key to help you know exactly what each symbol next to a product means. On the third page you can find 3 different options to order from WPS. We want to make your shopping experience as easy and seamless as possible. Choose from one of the ordering options and we will take care of the rest.
The Spring 2014 edition of Working Person's Store Catalog includes rain gear, high-visibility work wear, safety boots, safety shoes, met-guard footwear, comfortable insoles, work socks, flame-resistant clothing, welding workwear, and so much more. And all with the trusted brand names the working person knows, including Carhartt, Timberland PRO, Helly Hansen, Puma, Dr. Martens, Tingley, and many more.
If you haven't signed up to receive your catalog in the mail yet, no worries. Just click here and sign up today! It's that easy. You plug in your information and we will get your catalog sent out to your door. Now that's easy shopping!
Don't forget to follow us on Facebook, Twitter, Google+, Pinterest, and Instagram to be updated on all the latest deals, specials, contests, and more.